"The World of Magic – Where a Dream Comes True" is a lush production featuring high energy magic illusions and whimsical variety arts woven into a story of hope. This wonderful, theatrical tale is about a young boy who gets captivated by a big illusion 
show and is driven to be a performer when he grows up. But, like so many of us, he is distracted from reaching his dreams for decades. You'll be amazed and astonished, intrigued and entertained. You'll laugh and perhaps shed a tear. The show features Vegas-style illusions, heart-pounding music, and variety arts reminiscent of yesteryear. The story of the character's desire to make a dream come true is the story of many of us… and it is why this is a show that is perfect for audiences of all ages. It is sure to capture your imagination!
"The World of Magic" is an original theatrical experience produced by David Thomas. Thomas has earned both an
Emmy award and adulation as a producer of world-class entertainment for more than 20 years. With a story by David Hira, this collaboration creates a modern classic – a story of perseverance to realize one's dream through a powerfully rich magic and illusion show.
Along with collaborating to write and produce the show, Thomas and Hira also use their talents to star in it, with a breathtaking cast to back them up.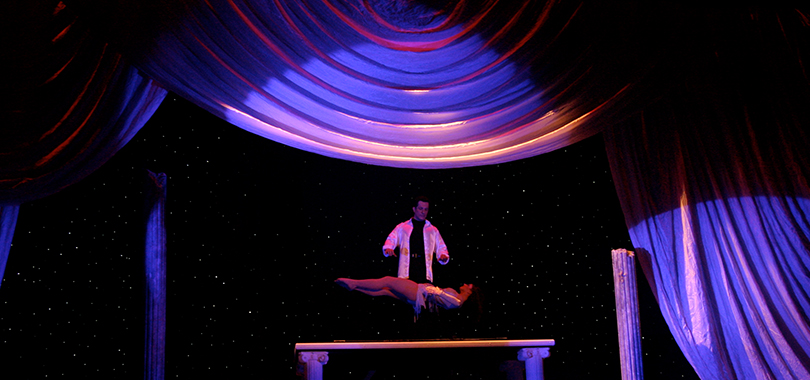 "The World of Magic – Where a Dream Comes True" is perfect for an evening out, date night, or a whole family get together for a night of unbelievable surprises that will have everyone at the edge of their seat! "The World of Magic" will leave each audience member believing that anything is possible. For indeed, anything is!
Visit the Batavia Fine Arts Centre on November 16th at 7:30pm to see this spectacle come to life. You won't believe your eyes as the enchantment casts a spell on you and takes you to the world of make-believe and wonderment.
Tickets range from $26 to $36 depending upon seating location. Students aged 10 and under receive $8 off the price of their ticket. Get more information about tickets at www.BataviaFineArtsCentre.org or by Calling the Box Office at (630) 937-8930.