PURCHASE SEASON TICKETS
---
Portrait of Aretha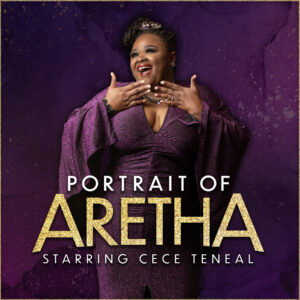 September 15, 2023 – 7:30 PM
Aretha Franklin taught us how to "Think" and demand "Respect…" all while ridin' on the "Freeway of Love!" In PORTRAIT OFARETHA, CeCe Teneal honors the legacy of the Queen of Soul with personalized interpretations of both popular and lesser-known songs from this 18-Grammy-Award-winning icon's 50-year career, including "Chain of Fools," "(You Make Me Feel Like) A Natural Woman," "Rock Steady," and "Until You Come Back to Me (That's What I'm Gonna Do)."
Click Here to Purchase Individual Tickets
PURCHASE SEASON TICKETS
---
She Will Rock You
November 17, 2023 – 7:30 PM
SHE WILL ROCK YOU! starring Stephanie Hodgdon salutes rock royalty like Queen, Pat Benatar, Blondie, Stevie Nicks, Led Zeppelin, and Heart in a high-energy and dynamic concert event! Utilizing her incredible vocal technique and multi-octave range, Stephanie thrills audiences with a great mix of 50s-to-70s rock mainstays, 80s hair-band hits, and modern-day favorites – perfect to satisfy rock fans of all ages. With music from early rock-n-roll through the mid-70s. The unmatched vocals, high-octane stage presence, and fusion of musical styles WILL ROCK YOU!
Click Here to Purchase Individual Tickets
PURCHASE SEASON TICKETS
---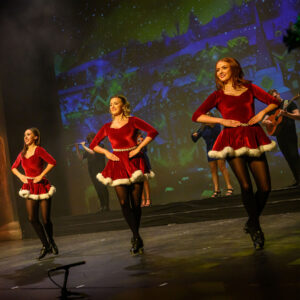 Rhythm of the Dance Christmas Special
December 8, 2023 – 7:30 PM
Rhythm of the Dance, which has brought audiences around the world to their feet for 22 years, is returning to the US with a Christmas Special.
Join us on this festive journey and let the magic of Christmas begin with all your favorite festive songs being performed live by world class musicians, star vocalists and world champion dancers.
Prepare to be taken on a special journey that is Irish in essence with that added touch of Christmas magic!
Click Here to Purchase Individual Tickets
PURCHASE SEASON TICKETS
---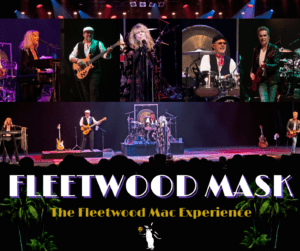 Fleetwood Mask
January 12, 2024 – 7:30 PM
In 2012, Fleetwood Mask was formed to honor the legacy of Fleetwood Mac. Upon meeting with Mick Fleetwood in Maui several years ago, Fleetwood Mask humbly and proudly carries the auspicious gift of having Mick Fleetwood's only endorsement in America.
Click Here to Purchase Individual Tickets
PURCHASE SEASON TICKETS
---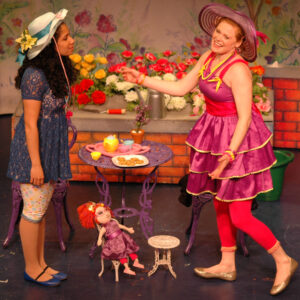 Fancy Nancy: The Musical
February 11, 2024 – 1:00 PM
Fancy Nancy and her friends, Bree, Rhonda, Wanda, and Lionel are going to be performing in their very first show, "Deep Sea Dances." Nancy is positive, that's fancy for 100 percent sure, that she and Bree will be picked to be mermaids. When another girl wins the coveted role of the mermaid, Nancy is stuck playing a dreary, dull tree. Can Nancy bring fancy flair to her role, even though it isn't the one she wanted? Based on the popular children's book series by Jane O'Connor and illustrated by Robin Preiss Glasser.
Click Here to Purchase Individual Tickets
PURCHASE SEASON TICKETS
---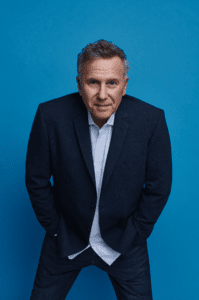 Paul Reiser
March 8, 2024 – 7:30 PM
Comedian, actor, television writer, author and musician Paul Reiser is one of Hollywood's most prolific creatives—and he shows no signs of slowing down.
Reiser recently starred in two hit shows for Netflix: Stranger Things—the company's biggest series of all time—where he plays Dr. Sam Owens, a role created by the Duffer Brothers specifically for him; and Chuck Lorre's The Kominsky Method, for which he received an Emmy nomination for Outstanding Supporting Actor in a Comedy Series.
The multi-faceted actor also revived one of his most iconic roles in the highly anticipated return of Mad About You, the long-running hit 90s comedy Reiser co-created and starred in with Helen Hunt. The Emmy, Peabody and Golden Globe-winning comedy ended in May 1999 and premiered 20 years later as a limited series on Spectrum Originals. All seven seasons of the original Mad About You and the re-visit are available for streaming on Amazon Prime.
Click Here to Purchase Individual Tickets
PURCHASE SEASON TICKETS
---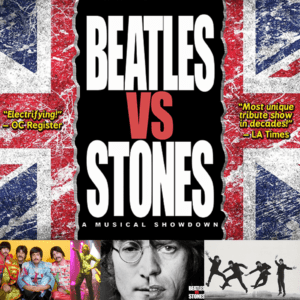 Beatles Vs. Stones A Musical Showdown
June 21, 2024 – 7:30 PM
The two greatest rock 'n' roll bands of all time face off in a once-in-a-lifetime show. Taking the side of the Fab Four is Abbey Road, one of the country's top Beatles tribute bands. They engage in a musical "showdown" of the hits against premier Stones tribute band Satisfaction – The International Rolling Stones Show.
Click Here to Purchase Individual Tickets
PURCHASE SEASON TICKETS
---