HELLO, DOLLY! is the story of Mrs. Dolly Levi's efforts to marry Horace Vandergelder, the well-known half-a-millionaire, and send his money circulating among the people like rainwater the way her late husband, Ephraim Levi, taught her. Along the way she also succeeds in matching up the young and beautiful Widow Molloy with Vandergelder's head clerk, Cornelius Hackl; Cornelius' assistant, Barnaby Tucker, with Mrs. Molloy's assistant, Minnie Fay; and the struggling artist, Ambrose Kemper, with Mr. Vandergelder's weeping niece, Ermengarde.. Levi tracks Vandergelder to his hay and feed store in Yonkers, then by train back to Mrs. Molloy's hat shop in New York, out into the streets of the city where they are all caught up in the great Fourteenth Street Association Parade, and finally to the most elegant and expensive restaurant in town, the Harmonia Gardens. There, Dolly is greeted by the waiters, cooks, doormen, and wine stewards in one of the most famous songs in the history of American musical comedy, Hello, Dolly! What happens in the end? Dolly gets her man, of course. Even makes him glad she caught him. Dolly leaves the stage at the end of Act II with a wink to the audience as she takes a peep into Vandergelder's bulging cash register, and promises that his fortune will soon be put to good use. She quotes her late husband as she says, "Money, pardon the expression, is like manure. It's not worth a thing unless it's spread around encouraging young things to grow." HELLO, DOLLY! is an ebullient and irresistible story of the joy of living, glittering with happy songs, shining with loving scenes, alive with the personality of one of the most fabulous characters on the musical stage…Dolly Gallagher Levi! Classic musical numbers include Put On Your Sunday Clothes, Ribbons Down My Back, Before the Parade Passes By, Elegance, It Only Takes A Moment and So Long, Dearie.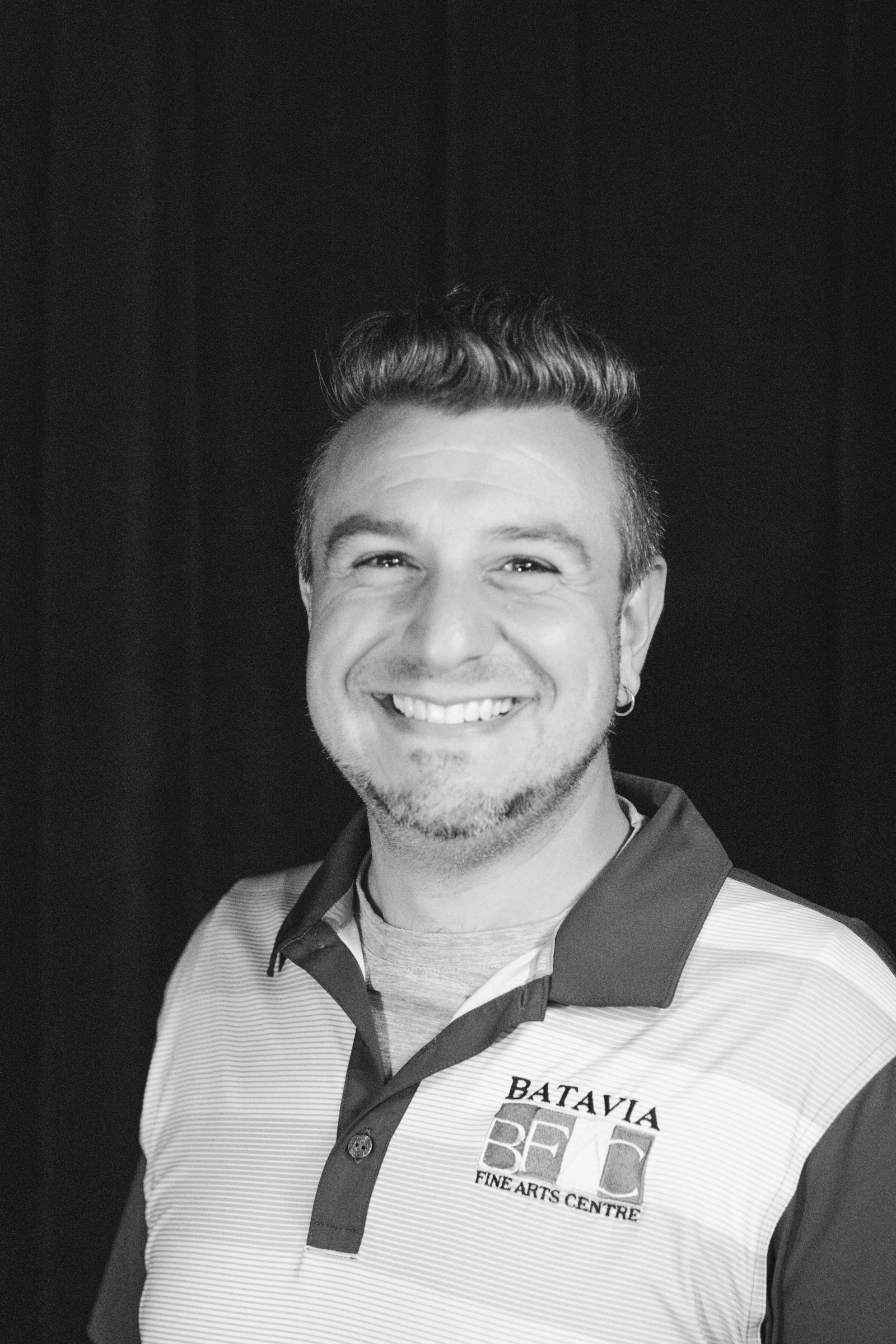 Dominic Cattero
Artistic Director
Dominic Is a Batavia native, graduating from BHS in 1999, at which point he attended Illinois Wesleyan University, where he earned a BFA in Theatre Arts. Following a short stint as a freelance director, he settled in Quincy Illinois at Quincy Community Theatre and served as their Director of Student Theatre and Head of Education from 2003-2005 at which time he transitioned to the position of CEO and Managing Artistic Director from 2005 – January of 2011. Dominic has also been appointed and served a three-year term with the Illinois Arts Council, a state agency, and served as an adjunct professor of Theatre Arts and Acting with Hannibal-LaGrange University from 2008 to 2010. A Theatrical Dominic met his wife Miranda on stage in Grease and they have four children, Brayden, Delaney, Mirabella, and Bianca.
Directing Credits Include: The Sound of Music, Urinetown, The Producers, Little Shop of Horrors (twice), Miracle on 34th Street, Steel Magnolias, Jesus Christ Superstar, On Golden Pond, The Graduate, Chicago, Little Brother, Lucky Stiff, Forever Plaid, Footloose, The Importance of Being Earnest, All Shook Up, Jake's Women, Everybody, Death of a Salesman, Lost in Yonkers, Shrek, Beauty and the Beast, The Legend of Sleepy Hollow, I Never Saw Another Butterfly, Dear Edwina, The Theory of Relativity, 9 to 5 The Musical, Arsenic and Old Lace, You're a Good Man Charlie Brown, Bridge to Terabithia, I Do! I Do! and many more. He is also the founding Director and coach for But Seriously, Folks… improv troupe founded in 2003.
Awards & Reccognition
* West Central Illinois 20 Under 40 recipient
* Individual Artist recipient for Wes Central Illinois?SouthEastern Iowa/North Eastern Missouri
* Arts Educator of the year – 2009
* Enid Ireland Award
* Batavia/Geneva/St. Charles 30 Under 30 recipient
* Batavia Hall of Honor