PURCHASE SEASON TICKETS
---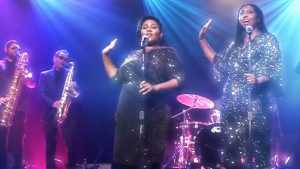 That Motown Band
June 17, 2021 – 7:30 PM
Do you love songs like Heat Wave, Ain't too Proud To Beg, Baby Love, Ain't No Mountain High Enough, My Girl, and Rescue me? Do you love artists like Smokey Robinson, The Temptations, The Supremes and The Four Tops? Then, you are going to love this group of talented vocalists and musicians. That Motown band has been entertaining the Hamptons crowd for many years now. They do venture out once in a while and have played shows in NYC at The Bitter End, on Broadway at The Town Hall, Center City in Philadelphia, The Inner Harbor in Baltimore., to name a few.
---
Buckets N' Boards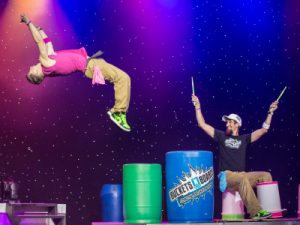 February 11, 2022- 7:30 PM
Buckets 'N' Boards comedy percussion show is a spectacularly imaginative work brought to life by two prolific performers, musicians, and comedians.  Witness this joyous charm as Matt and Gareth bring to life their characters with nonstop hilarious interplay.  The intricate beats and stunning synchronicity are AWESOME to behold!  The sheer variety of instruments and found objects they are able to manipulate is inspiring!  The comedy centered on the improvisational interactions with the crowd is the driving force of the show.
---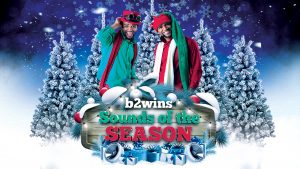 B2wins
December 3, 2021- 7:30 PM
This high-energy entertainment group continues to captivate audiences worldwide with its unique sound and an engaging live show that targets the masses. Led by charismatic Twin brothers from Rio de Janeiro, they combine a plethora of genres into a live show that is equal parts rock concert, jam session, dance party, and house party. Fans describe it as seeing your new best friends in concert.
---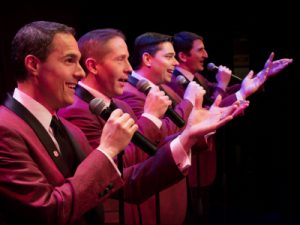 The Four C Notes
November 19, 2021- 7:30 PM
Pioneered by John Michael Coppola, best known for his appearance in Chicago's long-running production of the Broadway smash hit Jersey Boys, THE FOUR C NOTES are the Midwest's only tribute dedicated to recreating the music of Frankie Valli and the Four Seasons!
They have been seen at private events, performing arts centers, and outdoor festivals all over the county!
Four guys, smart choreography, and Mr. Coppola's legacy with the Frankie Valli and Four Seasons catalog give THE FOUR C NOTES  an authenticity to their performance that similar tribute groups simply cannot match…ANYWHERE!
---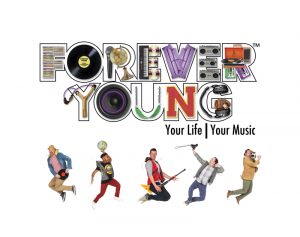 Forever Young
September 7, 2021- 7:30 PM
Forever Young is an exciting new look at the greatest hits of all time. Starring five of the most talented guys you'll ever meet, Forever Young takes you back to the music of your youth, back to the moment you discovered what it meant to set the record down, push play and tune in!
Set in a suburban basement, Forever Young is jam-packed with powerhouse vocals, dynamite choreography, and, most importantly, a story of five best friends who discover that a record player can truly change everything.
Packed full of pop, rock, and country classics, Forever Young is ultimately a tribute to your life…and your music!