The Soundtrack of YOUR Youth
Inspired by Forever Young
We asked, and you answered! Our patrons shared their favorite throwback tracks with us on social media. These are the songs our followers kept on repeat during their childhoods and teenage years.  YOU can stay forever young with the playlist below!
1. "Sir Duke" by Stevie Wonder
2. "My Generation" by The Who
3. "All I Wanna Do" by Sheryl Crow
4. "The Beat Goes On" by Sonny & Cher
5. "Stairway to Heaven" by Led Zeppelin
6. "The Boxer" by Simon & Garfunkel
7. "Rock around the Clock" by Bill Haley
8. "Color My World" by Chicago
9. "Heard it in a Love Song" by The Marshall Tucker Band
10. "Smoke on the Water" by Deep Purple
BEHIND THE SCENES:
WITH THE CAST OF FOREVER YOUNG

What is the reach of "Forever Young?" Where do you tour? What are the hopes for the show coming out of the pandemic?
Before the pandemic, we'd performed in about 20 different states. We've also had the show on cruise ships and even performed in Australia. We hope to be able to get back out there and connect with people. Our show is very uplifting, which many of us could use given everything we've been going through in regards to the pandemic.
What is an inside secret about the show our patrons can look for when they are watching?
When they walk into the theater, our set will already be visible. I'd suggest they have a look at everything. Everything on the stage serves multiple purposes throughout the show.
How was the show conceived?
We wanted to tell the true story of how we met and fell in love with music. For us, it was when we used to hang out after Little League Baseball games as kids. We would all hang out in my parents' basement, jamming out to their vinyl recorded collection. From there, you follow the guys and where music led each of them.
What was the inspiration for the characters in the show?
The fun thing is that, for the most part, we're not paying characters. We each get to play ourselves and tell our unique stories.
What is the most important key to the success of a show and specifically Forever Young?
I believe it's the sincerity and honesty in which we share our stories. The audience may be watching us tell our stories, but they also get to reflect on the similarities between their own lives and what they're watching on the stage.
Has anything ever gone wrong in a show? What is a fun story you could share about something that went wrong in a performance?
Plenty. Our first show we performed back in 2015, one of our guys forgot to pre-set his mic and didn't have it for the opener. The second show we did, the same guy remembered his mic but dropped it as soon as he went to sing. He's done much better over the years.
What gets you excited as a performer with the show and gets a great performance out of you?
Watching the audience take the journey with us. In most cases, the audience isn't fully aware of the type of theater experience our show is. By the end of the show, the stage and audience truly become one, and it's very special.
---
MARK YOUR CALENDAR
FOREVER YOUNG
September 7, 2021 – 7:30 PM – Rescheduled
An exciting new look at the greatest hits of all time
SUPPORT LOCAL ARTISTS AT THE BFAC GALLERY
September 7 – December 3, 2021
Batavia Fine Arts Centre invites you to our newest gallery exhibition, Art in the Time of Pandemic. This collection brings together 18 area artists to showcase the work that they have created since March of 2020. The artists share their pandemic creative experiences—what kept them positive, how they managed stress and isolation, embarked on new artistic journeys, and the expression of their experiences and emotions. Artwork is available for purchase.
Special Gallery Hours from 10 AM – 1 PM on the following dates:
September 11
September 18
September 25
October 2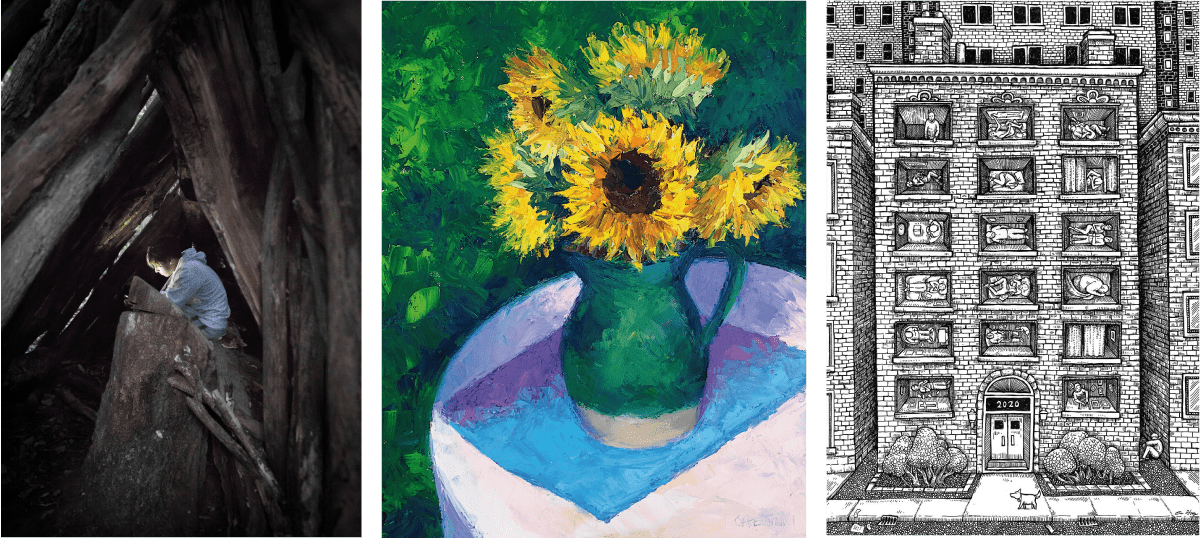 ADVERTISING OPPORTUNITIES
Share your business with thousands of BFAC patrons! Lobby digital signage puts your business in front of potential customers from Chicagoland, far and wide. Ads play on-screen before, during, and after performances.
NEXT UP: CAROLE'S KINGS
October 23, 2021 – 7:30 PM – Rescheduled
An iconic singer-songwriter gets a brand-new sound with this all-male tribute
With lush orchestrations, witty banter, and a cast of three incredibly talented New York stage veterans, CAROLE'S KINGS is a dynamic act jam-packed with chart-topping sensations such as "The Locomotion," "I Feel the Earth Move," "You've Got a Friend," and many more.
Seats are Limited