Ten years ago today we held our first event!
TEN years!! AND here we are going stronger than ever.  To celebrate, we wanted to give you the gift of discounts!  Choose your favorite discounts or use the code "10thanniversary" to claim all the discounts!  We have gotten to where we are today because of you, all our artists, patrons, and renters.  For that reason, you are beyond deserving of celebrating this milestone with us!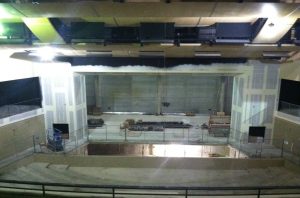 Not many people would have seen the theatre in the state of construction, as pictured, but remembering back to that dirt floor it is amazing to think of the hundreds of thousands of people who have come to love the arts as a patron or hone their craft on stage as an artist.  We get so much joy out of each unique experience and expression of art, from patron to artist, and we are overjoyed that you have come on this journey with us!
Enjoy the discounts and we can't wait to celebrate with you all year long!
Enter "10thanniversary" in the code section at checkout for the following discounts!
Discounts are valid through August 27, 2021.
Forever Young - BOGO
Caroles Kings - 33% off
The Four C Notes - 50% off
B2wins: Sounds of the Season - 33% off
Buckets N Boards - BOGO Child Tickets
Hyprov - 10% off